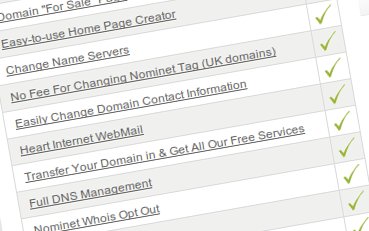 Just a quick heads up to warn people who may be relying on Heart Internet's "Full DNS Management" service which is included when registering/managing domains through them.
The problem I discovered was with creating multiple TXT records. The scenarios for this have become much more commonplace recently, for example on one of my domains I wished to create an SPF record, an SPF v2 record, and a Google DNS domain verification record (for use with Google Webmaster Tools) - not an unreasonable expectation.
When creating TXT records, the system will only allow one TXT record per "node" (root-domain or subdomain). There are no error messages or warnings - just that further TXT records don't appear after "saving" the changes.
In January, I contacted Heart Internet's support asking them to investigate the issue. The reply wasn't very reassuring:
"However, if you require the ability to add multiple SPF/TXT records to the same node then this will involve an update to our system so I recommed you submit that request using the Feedback form in your control panel. It will then be reviewed by the relevant department and you will not usually receive any reply unless they require more information."
I completed the feedback form, but true to the original support response - I did not receive any reply.
I don't think I'd have an issue with this as long as the limitations of their DNS management were made clear, however the text used to describe the service on the domain registration sales page is "Full DNS Management", and full DNS management this is not.
By May, I still had received no reply (not unsurprisingly considering the tone of the ticket response). I tried to create a second TXT record, but still had no success. I re-opened my original ticket, claiming that the "Full DNS Management" statement could be misleading, but I just received the stock-response again:
"I understand but I strongly recommend you submit the Feedback form again with your suggestion as it will then be dealt with by the relevant department. Please note that you will not receive a reply unless they require more information from you."
My request, was not a suggestion - it is reporting a bug with their "Full DNS Management" platform.
Finally, I'd like to say that all other aspects of their domain services I have used have been great (I haven't tried the hosting products). I would still recommend them for domains, as long as you are sure you will never require multiple TXT records! I hope by bringing this issue to attention that action may actually be taken to resolve it.
Update 26/06/2010: Heart Internet sent me a message on Twitter to let me know this problem has now been fixed! Excellent!